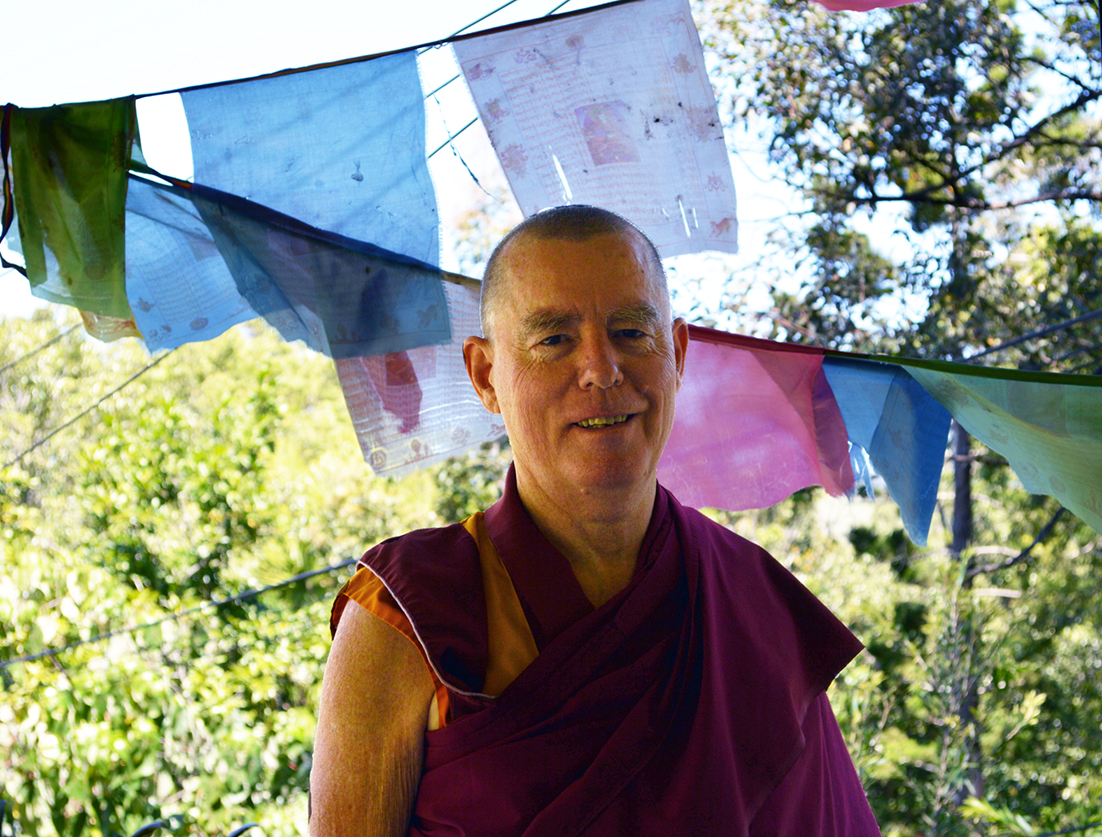 A Vision for Palliative Care
Pende's vision was to enable people with incurable illness to live in comfort and peace in the familiar and reassuring surrounds of their own home.
Karuna Hospice Services was founded in 1992 by Venerable Pende Hawter, a Buddhist monk with a vision to offer the local community a specialist palliative care service based on Buddhist principles. With community support and state government funding, Karuna has evolved and remains a trusted, reliable service to patients and their families when they need us most.
Compassionate care and guidance for people living with a life limiting illness.
With the dedication and commitment of those who supported Pende's vision and purpose, including volunteer clinical and allied health practitioners, Karuna's reputation for its unique blend of clinical care with kindness and compassion, grew.
Karuna welcomes people of all religious and spiritual denominations into our service.
Traditional Values, Contemporary Practice
Karuna's traditional model of care remains at the heart of our service. Our experienced team of clinical and family support practitioners offer services 24/7 to our patients and their families, in the same tried and true ways we always have, but with a modern approach.
Karuna's staff and volunteers are of diverse faiths and spiritual traditions, but united in values and how serve others with compassion and kindness. Karuna provides a trusted source of knowledge and compassion. Backed by a modern business structure, our nurses, counsellors, educators, corporate staff and volunteers provide much needed services to thousands of people in any given year.
Karuna House
1850's: Original stone cottage.
1880's: Sold to James Hamilton Scott who subdivided 90 allotments. He was the first person to change the house, adding a stone building in the east.
1885: The house was sold to Alfred Jones.
1894: The original house was possibly demolished (this was common in that time due to poor materials and labour). Jones rebuilt next to the stone wing. Renowned architect G Addison worked on the house in the 1890's and two acres were added to the site. Several rooms of the house are 'classic Addison rooms' and the main front portico. Formal gardens appeared with many varieties of roses and orchids.
1914: Jones and his three sons loaned the house to the Government for the war period for use as a repatriation hospital. The main treatments were massage and ionization.
1916: The first additional buildings appeared which included open air wards with canvas walls.
1918: The site was acquired by the Queensland Government for a permanent hospital.
1931: A second stone area of the main house was demolished and a timber area added. The 'viewing platform' on the east side which used to look out to Breakfast Creek was removed.
1945: More buildings were added to the site.
1949: Some buildings were leased to the Royal Brisbane Hospital.
1951: The main land to the east was subdivided.
1960's to 1980's: Used as a repatriation hospital.
1980's: Used as a geriatric and mental health hospital for the Royal Brisbane Hospital.
1994: The house and some buildings were closed down. House remained empty and was vandalised.
2005: Karuna Hospice Services leased the building for 30 years from Queensland Health.